Ti-UNic Biotech is expecting to create a total revenue of 2 million euros in three years by cooperating with a proteomics company
Reporter Zhang,Chen-Qing by Taipei Report
The Taiwanese startup Ti-UNic Biotech is dedicated in developing hair care products since the outbreak of the pandemic last year. Ti-UNic Biotech has been adhering to the spirit of "open innovation" since its establishment and has recieved attention from the world's Leading brands (Chanel, L'Oréal, LVMH, Pierre Fabre, R+F…..) since the first year of attendance in the world renowned exhibition COSMETIC360®.
COSMETIC360®, the annual summit of the French perfume and cosmetics industry, has been a gathering place for exchanges and discoveries between France and the international cosmetics industry since its establishment in 2015. The exhibition aims to gather all participants in the cosmetics field on the common theme of "innovation", and every exhibitor has the opportunity to communicate with the world's leading cosmetic brands. These international leading brands have innovative thinking and policies, and are eager to communicate and cooperate with companies that have the potential in innovation. Regardless of the company scale, as long as they have open and innovative thinking, they can all stand out in COSMETIC360®.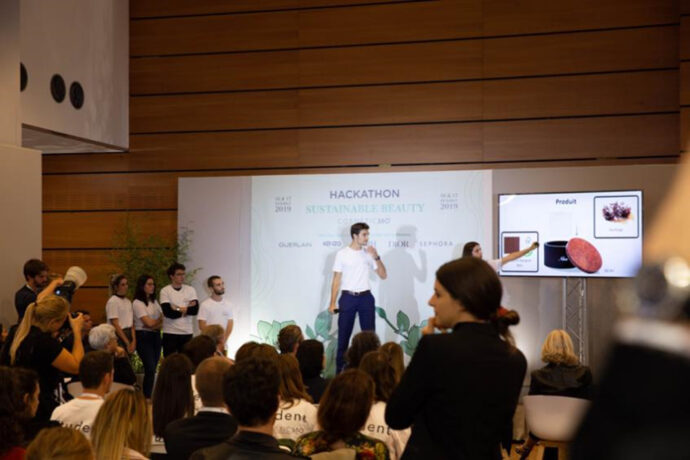 ▲ "Open Innovation" is the core spirit of COSMETIC360®.
This year, Ti-UNic Biotech is different from the past. It has conducted in-depth cooperation with the international strategic partner "OxiProteomics" , and launched many open and innovative applications on the scalp. In addition to the TUN-828® 's application of reducing grey hair in hair follicle melanocytes, this year It focuses on how to prevent hair follicles from being affected by PM2.5, as well as innovative applications on the overall scalp microbiome. The preliminary results have been put on the Open Innovation platform of COSMETIC360® this year and already received online meetings from four major international companies in just a month.
Internet surveys found that on average, every five people suffer from scalp issues. Many people are even facing a crisis of hair loss due to over-stressed work and living in a stressful life. In this regard, Ti-UNic Biotech has worked with French proteomic assessing company- OxiProteomic.The cooperation can not only promote the R&D volume of bilateral enterprises, but also cut into the global high-end product application market and shape the image of bilateral high-value products. At the same time, it can ensure that future products in the EU can meet regulatory requirements and accelerate the speed of product launch in the EU. It is estimated that in the next three years, it can create a revenue of 2 million euros. As hair is the second face of a person, It is believed that human's scalp health problems will be solved easily in the future.
Latest
Where personal care ingredients and creators come together.
In-cosmetics global returns this year in April 2022, in Paris.
Let's live a healthy life by keeping some good life habits.
Category
Top