2021 Cosmetic 360 | Paris
Ti-UNic Biotech will be attending online exhibition of 2021 Cosmetic 360.
We are very excited to participate in this upcoming exhibition and our digital platform is opening up until the end of the October!
This time, we will show you Scalp-Master TUN-828®, a total-solution for future hair and scalp health.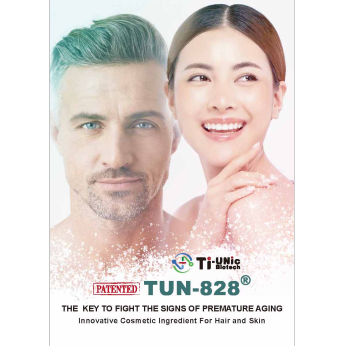 TUN-828 ® is an original biomimetic antioxidant that is able to mimic the active site of the superoxide dismutase, with the Ni active site. It is stable at room temperature. It will help you to increase your natural hair pigmentation and reduce the amount of H2O2 and O2-. produce during the melanin synthesis. It is able to reduces ROS amount, inflammation mediators and increases procollagen I amount in your skin. TUN-828® will protect your hair against UVA and pollution damages (new) and your skin against UVB damages.
Application : Hair, Skin and Beard.
Don't hesitate to contact us for the free access code to our digital platform! Click to contact us
Top