Key ingredients for scalp care: Ti-UNic Biotech creates exclusive hair products for hair salons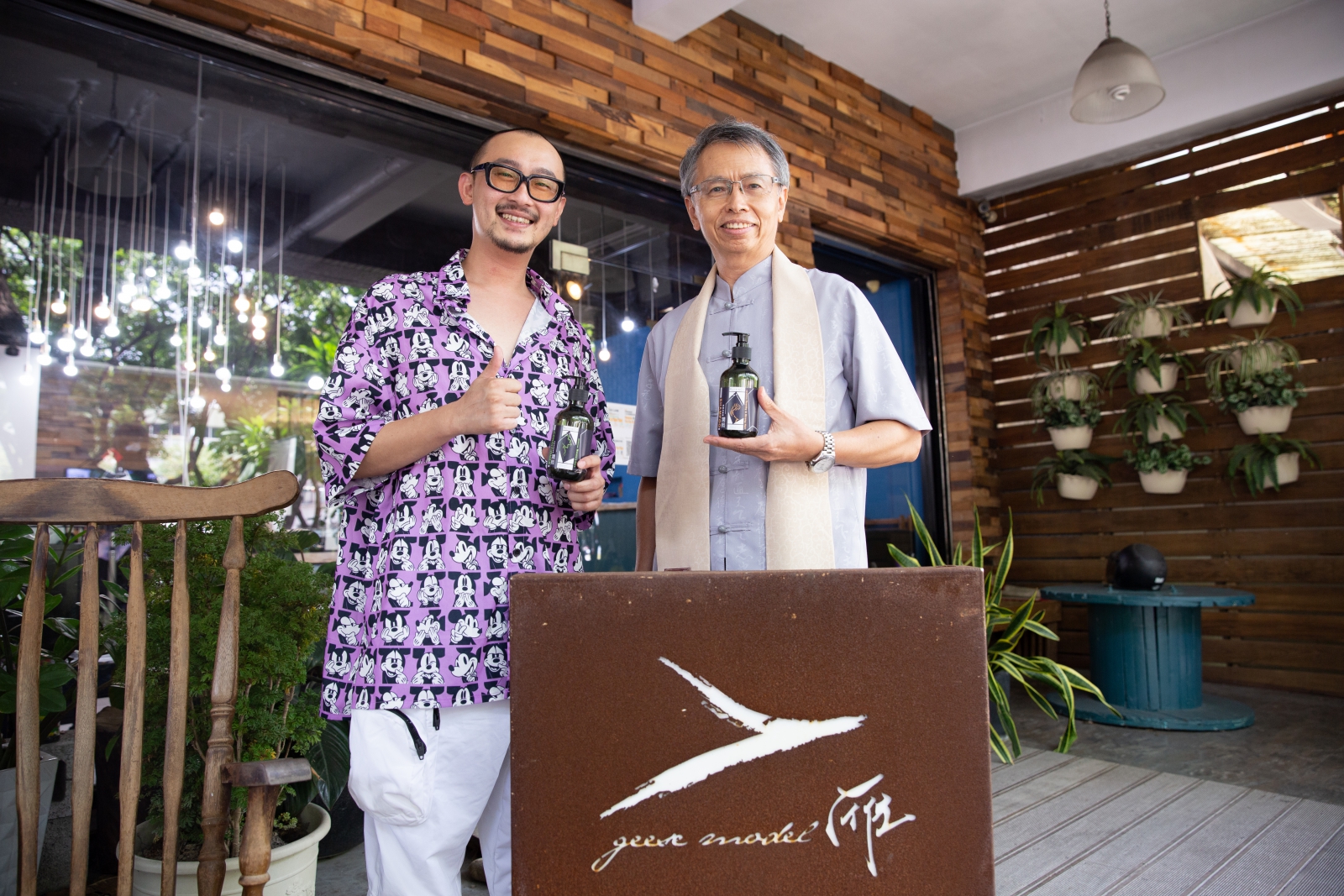 Angus, the head of Geese Model Hair Salon, and Jason, Chairman of Ti-UNic Biotech
The popular "Geese Model'' hair salon located in southern Taiwan currently has three chains in Kaohsiung, each has different styles and features. It is a texture-type hair salon and is highly recommended by many well-known bloggers. Its dyeing and perm evaluation of customer satisfaction is extremely high. The founder as well as designer Angus, who had studied abroad in Japan, was optimistic about Ti-UNic Biotech's raw material technology and recreated a new generation of hair care products for the original brand "Runxi". From formulation to bottle design,Ti-UNic Biotech adheres to one-stop service to create exclusive salon-level hair products for customers. Angus said that many people have a high degree of damage to their hair due to excessive perm and bleaching. If the hair is severely knotted or branched, he will recommend structural hair care to customers in order to keep their hair glossy. In the past, "Runxi" home care conditioner emphasized the function of moisturizing and nourishing. Now Angus wants to formulate a more moisturizing conditioner for severely damaged hair, so that customers can also do daily haircare at home.
It has been more than three years since Ti-UNic Biotech started its business and already won the favor and attention of many international manufacturers. During the pandemic years, Ti-UNic Biotech began to invest in research and development of products. With its unique patented raw material-superoxide dismutase(SOD) - a series of scalp protection products are developed. The medical school scalp clinical trial has just been completed at the end of July this year, and the statistical research results were quite possitive, not only that, but also attracted many hair salons and brand owners who wanted to create their own exclusive hair products.
Since the outbreak of the pandemic lasted for nearly a year and a half now, global consumption trends and lifestyles have undergone great changes. According to statistics, hair products in the first half of 2021 has not been affected by the pandemic. Among the hair products, customers use shampoo almost everyday. Scalp care and hair care have also recieved more attention, showing that consumers do not only want clean and smooth hair but also pay more attention to scalp care.
Adhering to Taiwan's manufacturing and strict quality control, Ti-UNic Biotech continues to break through the difficulties and stand on the international stage in the highly competitive environment dominated by the European and American markets, allowing the Taiwanese beauty industry to see the good performance of MIT(Made In Taiwan). Based on the praise of domestic hair products, Ti-UNic Biotech will participate in the two-day French Cosmetic360® online exhibition from October 13th to 14th. It will participate in the open innovation competition for the first time this year. The delegation selected an outstanding manufacturer in each of the four fields of product, raw material, service, and technology. It is hoped that Ti-UNic Biotech will achieve good results during the exhibition and let the world see the strength of Taiwan's research and development technology in the field of cosmetics materials.
Latest
Where personal care ingredients and creators come together.
In-cosmetics global returns this year in April 2022, in Paris.
Let's live a healthy life by keeping some good life habits.
Category
Top