Ti-UNic's New Ingredient Showcases at In-cosmetics Global 2022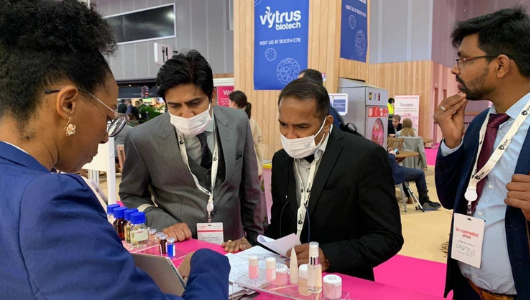 In-cosmetics Global 2022 returned to Paris with 12,366 unique visitors, making this edition the busiest show in Paris to date. The show attracted visitors from all over the globe, with 66% international visitors and 34% French visitors travelling to see the 843 personal care suppliers of ingredients, fragrances, lab equipment, testing and regulatory solutions.
From April 5th to 7th, Ti-UNic Biotech exhibited and presented the powerful ingredients : TUN-828® (biomimetic SOD), GHK-101™ and also new ingredients, Rosy Illumi Algae, a natural pink extract from Taiwan's red algae, an active cosmetic ingredient with soothing property. And Matera powder, an excellent exfoliator with antioxidant activity suitable for skin, hair, and body.
More than 100 visitors and manufacturers from all over the world came to Ti-UNic Biotech's booth to inquire about the latest ingredients. In addition to the SOD ingredient, which received the most attention, many visitors were also curious about blue copper peptides and new ingredient "Rosy Illumi Algae Extract". The French strategic partner that cooperated with Ti-UNic Biotech also presented on behalf of Ti-UNic at In-cosmetics global to L'Oreal, Louis Vuitton LVMH, Dior, Henkel, Safic-Alcan, SACI-CFPA and Cosmetic Valley, making it a step to move towards cooperation. The international cosmetics brands mentioned they were amazed at the antioxidant capacity of Ti-UNicl's exclusive patent SOD, and wanted to know more about the ingredients and discuss the possibility of cooperation in the future.
Latest
Where personal care ingredients and creators come together.
In-cosmetics global returns this year in April 2022, in Paris.
Let's live a healthy life by keeping some good life habits.
Category
Top